Stainless Steel Fittings Manufacturers in Ahmedabad :: Stainless Steel Fittings Suppliers :: SS Fittings Manufacturers in Ahmedabad
Our company possesses a great status in the related market as the manufacturers of supreme grade Stainless Steel Pipe Fittings in India. For the reason that, these are produced by technique of extremely efficient proficiency, in compliance to the international norms with the backing of the finest quality essential supplies these deliver good durableness in addition to excellent capability to endure extreme pressure with absolutely no failing.
These are austerely quality tested and confirmed as well. Our Stainless Steel Fittings possess excellent quality finishing. We offer them in various specifications and also take in manufacturing orders as chosen the patrons, according to their necessity upholding high accuracy. These are easy to maintain. We offer our products to our clients at very apt pricing.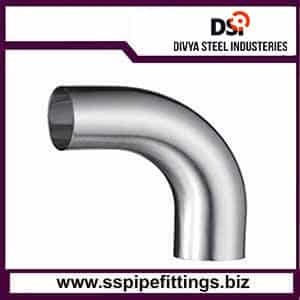 STAINLESS STEEL DAIRY BEND
Uses of Stainless Steel Fittings:
Stainless steel is recognized for its clean appearance, high durability and sturdiness.
This material is corrosion free, fire and heat resistance, along with the ability to withstand impacts.
These are some favorable qualities which can be accredited for the extensive use of stainless steel for a variety of purposes.
You can see the use of stainless steel for various indoor and outdoor applications in residential, commercial and industrial places.
From cutlery and tools to automotive parts and industrial fixtures, the number of purposes stainless steel serves is limitless.
However, to maintain its appearance and enhance its durability, regular maintenance is a must.
Maintenance of Stainless Steel Fittings:
Stains, discoloration and grime are the common issues which can arise if stainless steel fittings are not maintained well. However, regular cleaning is enough to maintain stainless steel fittings and keep them looking and functioning like new for a long time.
You do not have to invest in focused cleaning agents or tools for your stainless steel fittings, as using something as basic as soap and water is enough for their maintenance.
It is not advised to use strong chemicals or cleaning agents containing bleach, as these can cause damage to the stainless steel surface and also lower its performance and durability.
In order to keep your stainless steel fittings in enormous condition, you can wash these with a cloth and soft detergent.
Once we wash the fittings it should be cleaned with cold, fresh water.
We should not forget to dry the surface by wiping with clean cloth, as apart from leaving water marks, it can collision the durability of stainless steel fittings in the long run.
Stainless Steel Fittings -|- Stainless Steel Fittings Manufacturer -|- Stainless Steel Pipe Fittings -|- SS Pipe Fittings Dealears -|- Stainless Steel Tank -|- SS Pipe Dealers -|- SS Pipe Dealers in Ahmedabad -|- Stainless Steel Pipe Manufacturers in Ahmedabad -|- Stainless Steel Pipe Manufacturers in Gujarat -|- Stainless Steel Pipe Dealers in Ahmedabad -|- Stainless Steel Pipe Dealers in Gujarat